Versatile services for cost-effective and sustainable logistics
We help you streamline your logistics: from evaluating and selecting the right transportation mode to delivering cost-effective and sustainable transport solutions.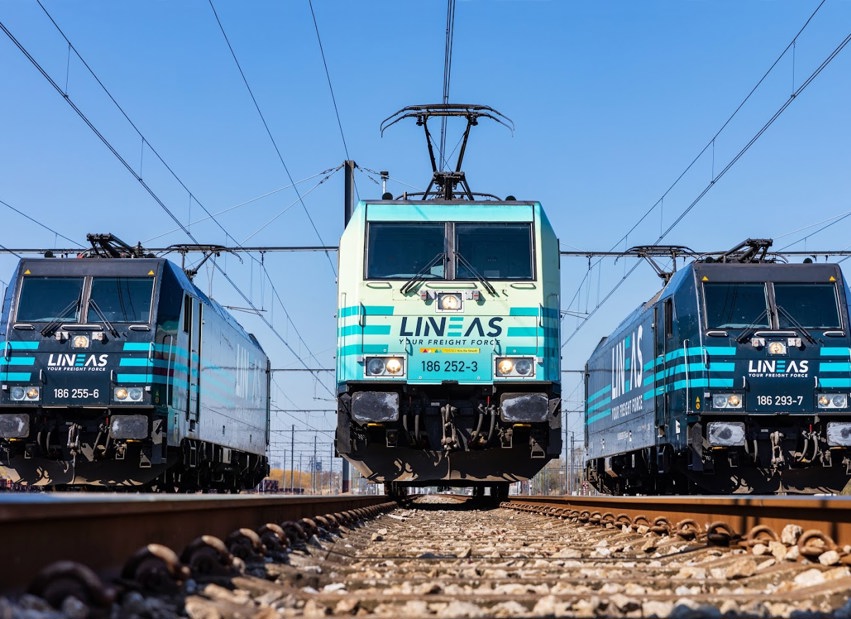 Rail freight transport offers vast benefits when it comes to cost, efficiency, timing and sustainability. However, managing its complexity can be challenging.
With our international experience, knowledge and scale, Lineas can provide you with just the right transport solution. From block trains to value-added services, our offerings are tailored to your individual needs.
Trust us to make your transportation easier & more cost-effective:
Lower transportation costs
Reliable and predictable delivery times
End-to-end tracking and tracing for streamlined shipments
Efficient transfer of goods between modes of transport
Avoiding capacity bottlenecks, even in major transportation corridors
Handling of documentation and customs formalities
Tailored solutions such as flexible scheduling and route optimization
Expertise to streamline transportation and mitigate problems
Cost-efficient solutions for fluctuating transport needs
Block trains
Efficient, fast and reliable large-capacity transports without any hassle
Block trains carry a single type of cargo directly from A to B, without intermediate stops or handling. By shortening transit times, fast handling, and optimizing route planning, we ensure optimal efficiency and thus lower overall transport costs.
Lineas block trains are a hassle-free and cost-effective solution for your high-volume shipments.
Count on us for:
Loading capacities of up to 2,600 tons net, maximum length of 750 meters
Flexible departure times and frequencies tailored to your needs and volumes.
Less cargo handling reduces risks and lowers costs
Intermodal trains
Flexible and convenient end-to-end transport 
Intermodal trains transport standardized containers, ensuring a seamless transition between modes of transport and guaranteeing fast, flexible, and secure delivery.
Experience seamless and efficient transport with Lineas, one of Europe's leading providers of intermodal transport solutions. By combining rail and road, we optimize your transportation experience from pickup to delivery.
Count on us for:
Direct connections between Europe's economic hubs
Flexible, fast, frequent and easy to work with
Excellent first and last mile solutions
The ability to handle short-term volume fluctuations and respond very quickly to requests.
Single Wagon Load
The efficient, sustainable, cost-effective solution for smaller shipments
An 'open train' or 'Single Wagon Load' combines shipments from multiple shippers into one train. This optimizes transport and resource utilization if you don't ship enough to fill an entire train.
When trains carry relatively small quantities, stops and transfers may increase, which means longer transit times and less efficiency. Additional handling and coordination, complex paperwork and customs clearance for multiple smaller shipments can drive up the freight costs per unit and are time-consuming.
Lineas 'Single Wagon Load' transport allows you to move any number of goods of varying sizes without the need to fill an entire train. That means fast, cost-effective delivery to a wide range of locations and lower carbon emissions per unit of cargo.
Count on us for:
Effective planning, communication, and advanced tracking technologies
Support for collaboration between stakeholders in the supply chain
Effective consolidation reduces environmental impact
Excellent handling facilities and secure logistics reduce transshipment risks
First Mile / Last Mile
Strategically located sidings for complete, efficient end-to-end transport
Efficient loading and unloading at sidings, avoiding incompatibilies or capacity bottlenecks, is essential to reliable, cost-effective rail transport while at the same time facilitating the modal shift from road to rail.
By providing you with the necessary infrastructure to enable smooth transitions between different modes of transport, we help increase efficiency, and reduce costs and emissions.
Working with carefully selected, strategically located sidings, Lineas offers first and last mile solutions that transport goods to and from a main rail line. We ensure goods are safely and correctly loaded onto or unloaded from rail cars and ensure compatibility between the mainline and the sidings.
Count on us for:
Excellent scheduling support and flexible storage in high-traffic areas
Tailored solutions to connect to sidings based on specific needs
Strategic locations at key points (ports, distribution centres, manufacturing hubs…)
Public rail network access improves efficiency and intermodal transport cost-effectiveness
Ad hoc / spot trains
Ultra-fast, hyper- flexible transport solutions for any type of cargo, at any time
Ever found yourself constrained by fixed rail transport schedules? For example, when you needed to respond quickly to an unexpected challenge, wanted to seize an opportunity or support a desperate customer? 
Lineas spot trains - also known as ad hoc or on-demand trains - provide a solution. They're not part of a fixed schedule, but arranged on a case-by-case basis to meet your last-minute transportation needs. They can be tailored to cargo sizes, types, and delivery requirements and can be adapted quickly to respond to sudden changes.
Count on us for:
An immediate response to changing orders or customer needs and changes in market conditions
Ad hoc trains can play a critical role during supply chain disruptions or natural disasters 
Efficient use of available capacity, avoiding empty or underutilized trains
Responsive customer support addressing all issues or changes during transport
Value-added services
An integrated, proven portfolio helping you to make the most of your rail transport
Management, storage, asset maintenance, education, training, and financing… There's more to rail transport than just trains. Value-added services offer you access to integrated solutions that tick all the right boxes. Our practical services are based on decades of rail transport provider knowledge and experience.
Transportation solutions
Locomotive and wagon rental
Lineas offers your company a flexible, competitively priced, and cost-effective way to manage fluctuating transport demands. Several rental options allow you to find the best solution, whatever the requirement. These include:
Short-term or long-term rental
Punctual rental (per hour, or per engine hour) or usage-based rental (km-based)
Dry rental (renting wagon and/or locomotive only)
Wet rental (full-service rental including asset, ECM, and maintenance management at guaranteed service level)
Neutral hill sequencing
Efficient and fast processing of transports through smart shunting and track redistribution.
Brake test
We can perform brake tests and provide certification, ensuring that all wagons will definitely stop when the driver pulls the brake.
Repairs
If you locomotive or wagon breaks down, we provide the right repair facilities, knowledge, and certifications.
Parking
We provide ample track capacity for safe, secure parking of your (rented) wagons and locomotives.
Asset maintenance
Our team offers an array of cost-efficient, customized, flexible, and fast support services to keep your fleet up and running, so you can stay focused on your core business.
On-site maintenance: Our engineers can help you with infrastructure and asset inspections, maintenance, and repairs to optimize fleet efficiency, improve safety and reduce costs.
Mobile team maintenance: Our team supports you with fast diagnostics and repair.
Workshop maintenance: certified maintenance workshops throughout Europe coordinate timely maintenance and repair of wagons and locomotives, saving time and costs and improving fleet availability.
Entity in Charge of Maintenance (ECM): We ensure the regulatory, legal and safety compliance of your fleet with tailor-made maintenance plans and inspections.
Container handling
Safe, secure, and standards-compliant handling and management of (intermodal) containers throughout the transportation process.
Rail staff
Training
Certified training for all kinds of railway personnel, from a dedicated training center with a decades-long history.
Personnel
Whatever your requirements, we can provide highly trained and motivated staff for shorter or longer periods, if needed in combination with rail equipment.